Arguments about money can be a major cause of all kids of stress in relationships. I have an idea that might help eliminate money issues in a marriage. Some say that to be on the same page in a marriage, you need to combine finances. This means that both parties have access to the bank accounts, which might not be ideal if you have one spouse who likes to spend money. Here is my solution:
1) Sit down with your spouse and go over his/her tax returns and get their last pay stub for each year. This way, you know what each other is making. This helps verify the amounts as well.
2) Instead of combined accounts, use a more diversified approach. Set up a spending account for each partner, with the rest going into a general/combined account, such as a checking account. For instance, say both spouses bring home $25,000 after taxes and deductions (retirement, court-issued deductions, kids' college funds, etc.).
3) Sit down with your spouse and agree that a set amount of each other's take-home income will be free spending money that the other cannot complain about—at all. Let's say you both agree to 10 percent as spending money. 10% for his and her. So, 20 percent of total combined take-home income is known spending money, to be spent on whatever that person wants without having to report to the other. If you want to agree that some of that percent will be used for normal needs, then that's fine.
4) The other 80 percent would be the typical combined account where you must come together with your partner to allocate your resources, be it for the day-to-day needs in life, to savings, retirement plans, et al. You would set up automatic deductions into the accounts through your employer, that way no spouse has undue control. You can't really hide any money then because both will have access to the main account, and if the amount deposited in that account ever changes, then you know something is going on without your knowledge. These percentages can be changed at any time as life situations change.
What I think this does is it gives couples a way to have the best of both worlds: independence with some money while also coming together in the traditional sense of combined resources. This is a modified and adjustable approach and I think that, if implemented properly, it would help eliminate arguing, guilt, control issues, or lying about purchases with money. You have your (10 percent) and neither has a say over that stake. Want to be bad with your money? Want to indulge in some retail therapy? Go right ahead with that 10 percent. The more important 80 percent will not be affected.
EXAMPLE (see flow chart)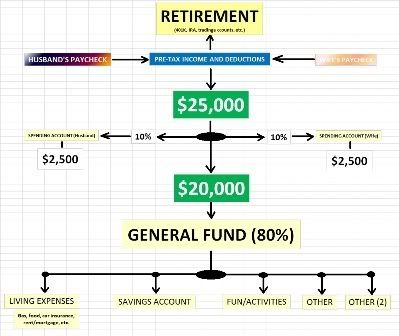 http://i286.photobucket.com/albums/ll86/novelk/Untitled-3.jpg
The system is, of course, built on trust. It won't prevent some of the following:
- Doesn't prevent hidden money from side jobs or other means that won't show up on a paycheck.
- Can't prevent a lying spouse from opening or charging things on a credit card and ruining you financially.